Foreign Resident Daily Life Consultation Corner
We offer free consultation services to foreigners with questions concerning their lives in Japan.
Consultation regarding all aspects of living in Japan is available
(visa status, work, health, medical, interpreting, translation, marriage, divorce and more)
Consultations are free and can be done anonymously.
We fully respect your privacy, so please feel free to consult with us regarding any issue.
Consultation can be done by phone, email, or in person.
Location:

SPIRA office


(located within the

Saga International Plaza

)
Consultation Hours:
Mon.-Fri. 9:00am to 5:00pm
Sat. Sun.& National Holidays are closed
Available Languages:
Japanese, English, Chinese, Korean
Contact Info:

Saga Prefecture International Relations Association (SPIRA)
Post Code: 840-0826
Saga Shoko Build. 1F
2-1-12 Shirayama, Saga City
(located within the Saga International Plaza)

TEL:0952-22-7830(Consultation Hotline)
Health Consultation for Foreigners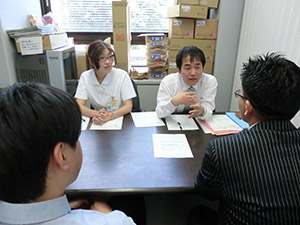 Health Consultation Service
A volunteer Japanese nurse and social worker hold consultations for foreigners in Japanese regarding health concerns. This is for those who have anxiety about Health managements, want to know more about healthcare system, etc. Feel free to stop by for a consultation!! Due to legal limitations, medical treatments are not provided.
Please make a reservation for volunteer interpreters.
Consultation Place

Roughly 3times a year

Dates undecided yet

We'll inform here.

SPIRA
Post Code: 840-0826
Saga Shoko Build. 1F
2-1-12 Shirayama, Saga City
(located within the Saga International Plaza)

TEL: 0952-25-7921
Consultation for
Translations, Interpretations, and Other Foreign Language Related Issues
For the promotion of international and multicultural exchange, SPIRA provides translation and interpretation services which are carried out by volunteers who have registered with SPIRA.
Please contact us for more details.
■ How to request translation or interpretation services
Please download and fill out the form below. Please submit it to us by email, fax or on paper.
Please note:
*Please contact us as far in advance as possible.
*If you are requesting a volunteer translation service, please include the word count.
*Depending on volunteer availability, not all requests can be granted.
*Business related and specialized/technical documents cannot be translated. The service is only for assisting foreigners with their daily lives in Japan.
■ Inquiries and Request Submissions
Saga Prefecture International Relations Association
Post Code: 840-0826
Saga Shoko Build. 1F 2-1-12 Shirayama, Saga City
TEL:0952-25-7921
FAX:0952-26-2055
E-MAIL:info@spira.or.jp