Volunteering
In order to improve the international exchange activities within the prefecture as well as to support the daily lives of foreigners in Saga, SPIRA has a system of registered volunteers from all over Saga. These volunteers are crucial in driving the international understanding and exchange between Saga residents forward.
Types of Volunteers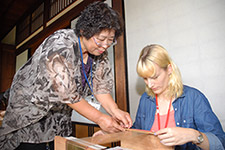 History and Culture Exchange Volunteer
Multilingual Volunteer Teachers
Volunteer Japanese Language Teachers
Volunteer Medical Interpreters
Volunteer Host Families
History and Culture Exchange Volunteers
Requirements for Registration
Can understand the objective of the system and willing to actively participate as an international exchange volunteer.
At least 18 years of age, and can participate in events within Saga Prefecture.
Have the required skills and knowledge in your registered field(s) and can be contacted by email.
Necessary Skills
1. Multilingual Volunteer Teachers
| | |
| --- | --- |
| English | Minimum Requirement: The EIKEN Test in Practical English Proficiency – Level Pre-1, TOEIC 730 or TOEFL iBT 79-80 |
| Chinese | Minimum Requirement: Chinese KENTEI – Level 2, The Chinese Proficiency Test (HSK) – Level 5 |
| Korean | Minimum Requirement: The Korean Language Proficiency Test – Level 2 |
| Spanish | Minimum Requirement: EVALUACIÓN OFICIAL DEL CONOCIMIENTO DE LA LENGUA ESPAÑOLA – Level 2 |
* The above is only a guide. It is not absolutely required to have said certificates. For languages not listed above, you should have a high enough level to be effective in your volunteer activities.
* For non-native Japanese speakers, JLPT Level N2 or equivalent proficiency is suggested.
2. Volunteer Japanese Language Teachers
Have a certificate related to Japanese language teaching or experience teaching Japanese.
* Each Japanese Language Group may have their own guidelines and required registration process.
3. History and Culture Exchange Volunteers
Have sufficient knowledge and ability to teach the history and culture of Japan and Saga to foreigners.
4. Volunteer Host Families
Can provide a private room for the guest.
All members of the host family are happy to participate.
5. Volunteer Medical Interpreters
Have sufficient language ability and have completed SPIRA's medical interpreter training course.
* As a general rule, volunteers should be available during the afternoon. (except host families)
* Volunteers must be responsible enough to respect and protect the privacy of the patient. (for all fields)
Registration Period
Registration period is for 2 years. Registration may be continued after the 2 year period.
Volunteer Training Programs
Volunteer Japanese Language Classes
SPIRA supports Japanese language class for foreigners in order to improve their daily lives as a resident in Saga.
2014

Adobe Reader may be required to view the PDF above.
Please click on the banner on the left to download it for free.